If you love computer games and want a comfortable space, then check out our list of the best LAN shops in Singapore you can visit!
Are you addicted to playing games? 
Do you want to play in a room which can give you comfort, easy access, affordable prices, the best interaction with different kinds of people, and the finest place to come when you want to have some fun? 
Well… These are the 6 foremost LAN Shops in Singapore that can satisfy your needs and expectations. 
Related:
Best Computer Desktop in Singapore
Best Cheap Gaming Laptop Singapore
Top 6 LAN Shops Singapore
1. Cyber Express Cafe
One of the latest and best LAN shop outlets in Singapore which have fast internet, comfortable computers and atmosphere all come together in this shop. It offers a warm and pleasant stay for all kinds of customers accompanied by individual sofa seats and hard implements. 
As well as, if you are a fan of Garena games like Firefall, Heroes of Newerth, FIFA Online 3, Arena of Valor, League of Legends, Blackshot, and so on… Their Garena Gold Cafe status means you'll get enough astonishing benefits just by being a component – together with twice IP gain in League and incentive experience in Blackshot.
Ever since the very OG game is DOTA2 which Cyber Express cafe has an arena for those who play DOTA2. And for the experts who actually play, mid-lane is always hard!
Here's what the customer says: "Quiet, comfortable place to game. I'm a weird one, I log into my Steam account, download a game, and continue where I left off. It hasn't choked on anything yet, I've so far been able to turn up the graphics settings on everything without any slowdown. These machines are pretty beastly!" 
Well, all of us want some focus while we are playing and Cyber Express cafe was the best option to play in when you're the type of person who likes peace of mind while doing a certain task. This is located in 1 Jalan Anak Bukit, #B1-12A, Bukit Timah Plaza, Singapore 588996.
You can also get some communication by calling their contact number: 82990922. Their store is open every day from 9 in the morning and 1 in the dawn. Per hour will cost $2.50 which is very affordable for a fun time. 
2. Khakabo
One of the oldest and most observed LAN stores in Singapore that's nevertheless operating. It has a bunch of faithful consumers that clasp close to their hearts. Single sofa-style seats keep us comfy, while the silent ambiance and the chime of clicking and clacking go on never-ending appreciation to the low $2.50 rates and the certainty that it opens 24\7 which is very accommodating especially for those who are in need at a certain time. 
Do you know why customers keep on repeatedly coming here at Khakabo? Excluding the fact that every unit in this LAN Shop includes a tremendous 32-inch monitor display making it more significant for all kinds of activities, such as playing games, watching videos, movies, presentations, tapes, promotional films and even doing some homework or office work. 
As stated by: "Spent most of my gaming life here back in my secondary school days when I had no gaming setup. The staff are very friendly to us and the place is clean and comfortable. If you're finding a place to LAM gaming or burn your time, this is the place." 
For those who are interested, this gaming shop is located at 175 Bencoolen Street, #01-58, Burlington Square, Singapore, 189649. Or keep in touch with their contact details: 
(+65) 8128 0922 or maybe come to their place because it was open every day, 24\7 and it only costs $2.50 per hour which is very nice to our pockets, that every one of us can afford it. 
Facebook: www.facebook.com/Khakabo
Address: 1 Woodlands Road, 01-24, Singapore 677899
Contact: 01-58 Burlington Square, 175 Bencoolen St, Singapore 189649
Rates: From $2.50/hour
Opening Hours: Open 24 hours
3. Clique Gaming
Clique Gaming is one of the best premium cybercafes in Singapore, making it extremely rated by the gamers\fellowmens. This Gaming offers a hard experience with extravagant hardware and any gaming options to choose from. They're also offering to prepay rates (per hour) or Flexi rates (per minute). 
According to the point of view of a consumer: "This place is very nice and big. The computers are pretty smooth. They also offer PS4, VR, and Pools, etc. A good place to hang out with friends in the town area!"
This is located in Parklane Shopping Mall, 35 Selegie Road, #B1-16, S(188307). You can also contact their no. +65 9009 3707 for more info if you wanted to try this Gaming Place. It is open every day, 24\7 with a cost of $2 (per hour) which is very affordable and worth the budget. 
Facebook: www.facebook.com/CliquegamingSG
Address: 35 Selegie Rd, B1-16 Parklane shopping Mall, Singapore 188307
Contact: +65 9009 3707
Rates: From $2/hour
Opening Hours: Open 24 hours
4. Colosseum
Colosseum is one of the highly-rated gaming internet shops with significant rates and solid hardware that makes this Colosseum a mainstay in local gaming culture for many years. 
Still, this gaming shop has its biggest draw to the fact that every single unit comes with its own Secret-Lab Gaming Chair – that's a very high-quality gaming chair used in global championships for sports worldwide. 
It was a popular landmark for gamers in Singapore because of how Colosseum is deep-rooted in the local LAN Shop. In the accompany of their custom Secret Lab gaming chairs, that can knock out all the gaming shops in Singapore by just how high the quality is. 
This gaming shop is also popular because of its high service standards and solid performance gaming stations. It provides the best experience that everyone needs because most of us are very stressed in life, self, and work. So that, we are finding some safe place to gain motivation and entertain ourselves for some time. 
In proportion to: "It was fun playing here! Come with my friends the other time and we all enjoyed it! Would love to come back again 🙂 and the counter person was very kind and even offered wet wipes to clean our equipment in case we want to double clean the equipment.
They have all games updated and we can even request games that are not in their system but there is a social distancing protocol due to COVID but if you are with friends you can sit together. Fair enough. Will regularly come." 
Such a thing, this is located at Downtown East, 1 Pasir Ris Close, #02-342, Singapore 519599. It also opens daily, from 11 in the morning until 11 in the evening. Their rate costs $2.50 (per hour) and by that, happiness can be achieved. 
Permanently Closed
5. Goodspeed Cyber Cafe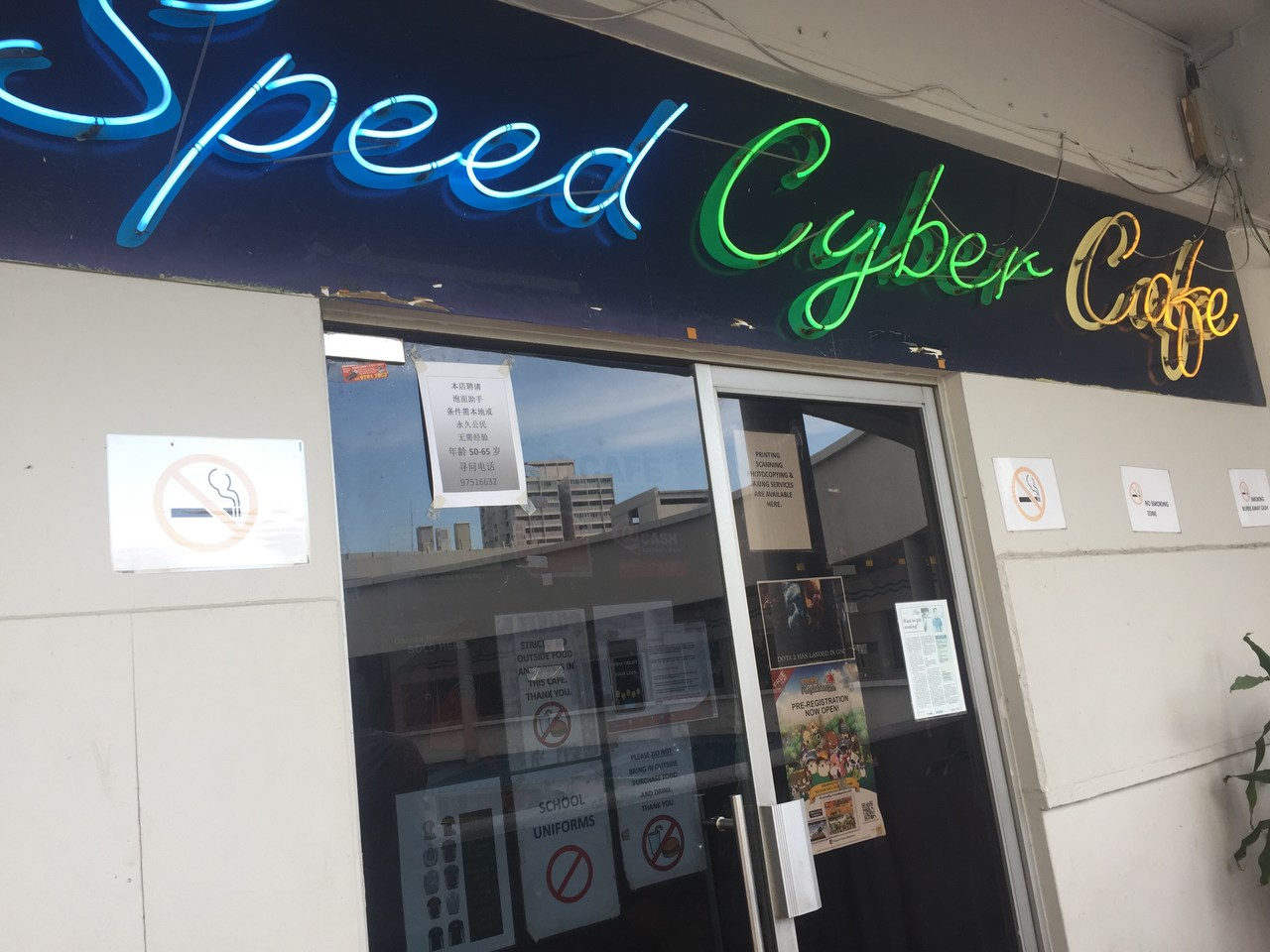 An operating gaming shop ever since 2001. Goodspeed Cyber Cafe offers the best LAN Shop vibes with comfy chairs, an affordable hour package with a discount and classic LAN shop snacks such as instant noodles! They even rebuilt their hardware not long ago to keep pace with the most demanding game titles of today. 
Also, their twisted screen setups are a great way to dip yourself in your gaming. One of the trusty and reliable LAN Shopthat's been in the center of the game for a while now is Godspeed Cyber Cafe. It is a nice place to chill and play. 
Conforming to: "A really good LAN shop that has a variety of LAN & single-player games. $ 5.50 for 3 hours is a pretty good deal that can be augmented to include freshly prepared food and drinks. Food includes instant noodles, nuggets, and more. The staff is friendly and helpful. Walking distance from 'Ang Mo Kio MRT Station' ". 
This is located in Block 710A, Ang Mo Kio Avenue 8, #02-2625, S(561710), so you can visit if you want or contact them at +65 6455 2595. Their gaming shop is open from Sunday to Thursday: 11 AM – 11 PM; Friday to Saturday: 11 AM – 1 AM, which means you can visit their shop anytime.
Facebook: www.facebook.com/gsccafe/
Address: 710A Ang Mo Kio Ave 8, #02-2625, Singapore 561710
Contact: +65 6455 2595
Rates: From $2/hour
Opening Hours:
Tuesday to Friday & Sunday, 10:00AM – 1:00AM
Saturday, 10:00AM – 2:00AM
Monday, 10:30AM – 12:00AM
Panda Q Cyber Cafe
If you are looking for a newer LAN shop in Singapore, head over to Panda Q Cyber Cafe. What's good about this LAN shop is its newly updated and fresh equipment and hardware. However, expect their rates or prices to be a bit pricey, unlike other LAN shops.
The area is spacious and looks comfortable when you enter the cafe, especially their chairs and tables. They are equipped with the latest computer sets featuring the water-cooled PCs most players would dream of having. The RGB lighting of all the PCs is truly fascinating, and surely players won't bother but would instead admire it. All feature a high-speed processor and connection, which every player would love.
Even if you stay for hours and grind on games, it feels like you are playing at home because of the comfort and convenience the shop highlights. All their computers are installed with the most played games of all time, including League of Legends, DOTA 2, and PUBG. 
If you think you'll be playing in this cafe frequently, then try availing their gold membership and enjoy their benefits and lower fees. You'll definitely save more.
Website: pandaqcyber.com
Address: 1 Woodlands Road, 01-24, Singapore 677899
Contact: +65 6679 1892
Rates: From $2.50/hour
Opening Hours: Monday to Sunday, 12:00PM – 1:00AM
What are the advantages of LAN?
Local Area Network has become popular today, especially in Singapore. Gamers or those looking for a place to play games and relax would love the comfort and convenience of going to a LAN shop. Let us find out what are the advantages of local area networks.
Convenience
As mentioned, it is more convenient to play games on a LAN. Users can easily access all communications and saved data because it is saved in one place.
Security
With all the data LAN users stored in one local server, it is guaranteed to be secured with privacy. The LAN host can allow users to access data once proven it is theirs.
Internet
Internet is shared with all LAN users, and the type of internet connection most LAN shops are using is high-speed and all connected on each computer.
Sharing
Aside from the internet, users can share communication, resources, and software in LAN shops. Hard disks and printers are shared, so it is convenient for users to connect and access any files or print files. The software purchased is also shared with all computers without the need to purchase a license individually.
Where to Find the Best LAN Shop in Singapore
As of now, all of us are having trust issues because of how cruel bad humans are. And some were on the edge of depths of despair because of how cruel the world is. That's why having self-care as long as enjoying our free time was such a big help, especially to our mental health. 
Playing games is one of the best things to do to endure the heavy problems we are all facing. It was a great escape to have time and love for ourselves by doing the things we wanted but of course, with limitations. 
There are still too many Gaming Shops around the world, which provides not only enjoyment but also helps us to be determined, brave enough, and focus on something we want to excel in. 
There exist a lot of benefits we can get from playing games. Just like: Facing computers while eating good foods which the store provides, meeting new people and making friends with them, appreciating our skills which can make ourselves proud, believing in our capability of playing either in defeat or victory. 
Relax in the best places we can play games.
Best LAN Shops in Singapore: FAQs
Are LAN still open?
During the Covid-19 in 2021, LAN shops were not as popular as before. But, there are still LAN shops open today with safety protocols followed.
What is LAN gaming?
LAN gaming means one computer is connected to a LAN server, and gamers can gather and choose a multiplayer mode to have them all play at the same time.
Is LAN expensive?
Running a LAN shop may cost much, especially when purchasing PCs, connections, and servers. However, it is still a good business, especially since players are comfortable playing in shops. Going to a LAN shop is relatively cheap per hour, but they offer memberships to save.
Read more:
Nintendo Switch Singapore: Where to Buy
Best Printing Companies in Singapore