Merlion Park, shopping centres, orchid flowers and lip-smacking oriental cuisine. These are a few things that come to your mind when someone says Singapore. But that's not all that Singapore has got to offer. Do you know that Singapore offers a host of drinks, both alcoholic and non-alcoholic, that will leave you craving for more?
Singapore Sling, Kopi-O & Teh Tarik, among others, are as delicious as the Singapore flat noodles and might compel you to visit this beautiful country, again and again. No trip to Singapore is ever complete till you have tried some of its refreshing drinks. While the Singapore's cuisine is world famous, only a few know about its drinking culture.
Although, the high imposition of taxes on alcoholic beverages, makes them an expensive indulgence but tourists and locals never miss a chance to down a drink or two. For people who want to avoid alcohol or want to save a few bucks without missing out on the fun, the option of enjoying inexpensive but equally delightful local preparations is always open. These local drinks are easily available 24×7, at the thousands of hawker centers across the entire country. The average price of a drink at such centers 1is less than 3 dollars.
Top 10 Must-try Drinks in Singapore
Let's have a look at some of the non-alcoholic and alcoholic drinks that are a must try, when in Singapore:
1. Kopi-O / Coffee
Want to recharge yourself in the morning before you heat out for sight-seeing? Grab a Kopi-O.
This is the traditional black coffee with sugar that you may get at every coffee shop/stall, called Kopi Tiam in the local language. This drink is best taken with breakfast as its strong flavor and high caffeine content keeps you active for hours. For the same reasons, taking this drink just before the bedtime should be avoided. If the classic version of this drink is too plain for you, several coffee chains now also serve many jazzed-up varieties of Kopi-O.
2. Teh Tarik / Tea
Tea lovers all over the world travel to Singapore to try "Indian Teh Tarik". Prepared with black tea liquor and condensed milk, it has a unique sweet taste. This hot beverage is not only refreshing, it also provides relief in common cough and cold when ginger is added to it. Ginger Tea is known as "Ta Halia Tarik" and is equally popular among the locals.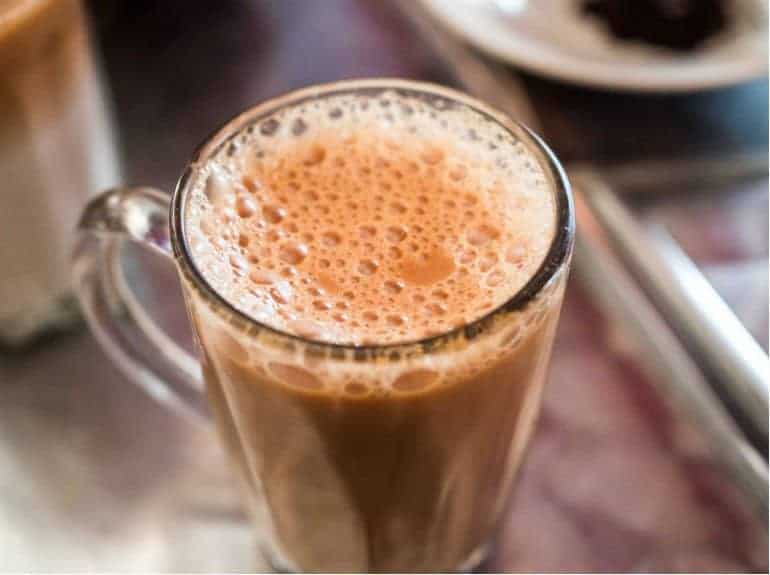 Apart from taste, the preparation of Teh Tarik is also quite fascinating to watch. The tea hawkers froth it up by pouring it from one pot to another from an arm's length. This process enhances the taste and brings the hot beverage to optimum drinking temperature. Do not miss this delight, next time you're in Singapore.
3. Singapore Sling
This tropical treat is a must-try in every weather. First invented by the famous Raffles Hotel in Singapore, this gin-based cocktail soon became popular all over the South-East Asia. Singapore Sling is a concoction prepared using Gin, Benedictine, Cherry Heering and pineapple juice making it both sweet and tangy at the same time while giving it a foamy top.
Although, it is available at all the bars across Singapore but try it at Raffles Hotel, i.e. the place of origin, for the most authentic experience. Go, have a fling with the Singapore Sling.
4. Milo Dinosaur
Travelling with kids or want to treat your own inner child? Then Milo Dinosaur is your go-to thing. This malt based drink can be enjoyed by kids and adults alike. Chocolate flavoured Milo is mixed with ice-cold milk and is then generously topped with dry Milo or ice cream.
The richer, creamier and tastier ice cream topping makes it Milo Godzilla (Go for this variant if you prefer Godzilla over Jurassic park or if you're an ice cream fan, in general). Originally found in Singapore, this drink is now southeast Asia's hot (or rather, cold) favorite. A glass of chilled Milo Dinosaur will keep your kids happy while you shop at one of the busiest shopping centers in the world.
5. Bandung
What do you get when you mix chilled milk with rose syrup? Sheer awesomeness aka Bandung. You can easily get this cooler at local cafes on Singapore streets.
While its sweety-rosy taste will quench your thirst, its candy pink color will soothe your eyes but don't take it to be just an eye-candy, it has high nutrional and medicinal properties too. Apart from Singapore, this drink is also popular in Malaysia where it is often served as traditional welcome drink in wedding ceremonies.
6. Bubble Tea
Originated in Taiwan, Bubble tea made its way onto the streets of Singapore long back.
A drink which looks as good as it tastes, Bubble tea is now counted among Singapore's favorite beverages. This drink is made using black tea, tapioca balls, sweetner (sugar, honey, stevia, aspartame etc), milk and or crushed fruit. Bubble Tea is a slushy drink which can be served hot as well as cold. The tapioca balls float around as if the drink is filled with bubbles, giving it a unique and interesting look. Also called Boba, this beverage will certainly take your taste buds by surprise.
7. Tiger Beer
It will be not be an overstatement to call beer, the world's most loved alcoholic drink. And when it comes to choosing their favorite beer, Singaporeans have zeroed-in on Tiger Beer.
If drinking alcohol is your guilty pleasure, then you must try this smooth, golden drink. Singapore's locally brewed Tiger Beer is now sold in almost 60 countries all over the world, but tasting it in its country of origin will be a special experience for all beer lovers. You can easily get a Tiger Beer can or bottle at all the alcohol shops and bars in Singapore.
8. Sugarcane Juice
Sugarcane juice is available almost everywhere in the world, then what makes it so special in Singapore? It is the quality of sugarcanes that is produced in this country. Singapore's weather is perfect for sugarcane growth and that is the reason that this country produces some of the finest varieties of sugarcanes.
You will believe this only when you see the bright, soothing green juice that the vendor gives you to drink after crushing the sweet sugarcane in front of your eyes. Sugarcane juice cools down body, gives you instant energy and has therapeutic effects on your liver. It has a mildly sweet flavor that you will relish for long. You can actually feel your body thanking you after having a glass of this organic drink.
READ ALSO: Best Japanese Snacks
9. Chin Chow Drink
Since this part of the world can get very hot in the summer, many cooling drinks are an integral part of the traditional drinking culture of Singapore.
One such refreshing cooler is Chin Chow drink or the Grass Jelly drink. As you can guess from its name, this is prepared using Grass Jelly or Chin Chow mixed in water, fruit juice or cold milk and sugar syrup. It has an exotic look and tastes amazing.
After you are done drinking it, you can separately eat the jelly pieces which is a fun thing to do. This drink will guard you against sunstrokes on a hot summer day and give you energy to carry on all the travelling that you need to do. You can enjoy this drink after buying it from local vendors or you can also prepare it yourself by buying a packet of Chin Chow, easily available in markets.
10. Barley Water
Cooling drink that is so sweet and nice. This is the best drink you can ever have in the hot and humid Singapore.
READ ALSO:
Best Things to BUY in Singapore