Singapore only boasts a landmass of 719 square kilometers, which is 13,000 less than the United States of America. Nonetheless, its small size is not something to ignore since The Lion City is the world's top competitive countries. 
Despite its small landmass, the central districts provide the country with one of the world's best economies. Businesses are flourishing, and thousands of tourists come to visit popular spots in the country such as the Marina Sands Bay and the Merlion. 
In 2019, Singapore housed over five million residents, 47% of which belong to the working population. As such, there are hundreds of establishments that cater to the needs of these working people. 
For those in the working force, coffee is essential to kick start the day. For this reason, the presence of Starbucks has become the norm in every business district. It is one of the world's greatest coffee empire helping professionals get that sip to get them on their feet quickly. 
Related: Here's a list of places you can visit in Singapore when you're bored!
Singapore Starbucks that open 24/7
If you prefer working during the night, studying in the break of dawn, or meeting a friend after work, finding a coffee shop that is open 24/7 might be a challenge. However, in Singapore, that is not the case as there are more than ten Starbuck branches ready to brew your favorite drink even past midnight. 
You might be doubting to get a drink at Starbucks, especially because of the COVID-19 restrictions, but we now have updated our list of Singapore Starbucks that are now open and operating amid the pandemic.
Check out these Starbucks branches in Singapore that is open all day and night long. 
UPDATE: Due to Covid19, most Starbucks stores are closed at 1030pm.
Only One outlet opens 24 hours!
Kindly check the relevant opening hours here.
Starbucks Airport Terminal 1 (only 24 hours outlet)
Departure / Transit Lounge East #02-66, Terminal 1 Singapore Changi Airport, Singapore 819642
12:00 AM to 12:00 AM
Starbucks United Square (closes 10.30pm)
One of the most private and coziest Starbucks in Singapore is found in the United Square. The coffee shop boasts a unique structure with a unique box-like structure painted in the gray exterior. In addition, the branch is one out of the eight Starbucks Reserve branches in Singapore, which means that you will get to see your drink brewed right in front of your eyes. 
However, the interior is far from its concrete looking outside design. The coffee shop has a vintage wooden interior design with high ceilings, glass walls, and coffee tables. Ultimately, it is the perfect spot for friends to catch up on since it has low tables and comfy couches, which are not entirely conducive for students. 
Starbucks Liat Towers 07:30 AM to 10:30 PM
Singapore's first-ever Starbucks opened way back in 1996, making it the second international branch of Starbucks aside from Japan. The store underwent major renovations and has now been open to the public since February of 2019. 
Fans of the old layout of the coffee shop will notice significant changes in the design and atmosphere of the branch. Before, the branch used to be packed with groups hanging out together and couples going on a date. Now, everyone can get to enjoy without feeling too stuffed in the coffee shop because of its high ceilings and strategic table placement. 
Outside the shop, you can enjoy your drink in a patio like seating, or you could stay in and enjoy the cozy atmosphere of the shop with its wooden designs. For over 23 years, the Starbucks branch in Liat Towers remains to be an iconic establishment, and with its renovation, it will surely be a place where family, friends, and lovers create more memories. 
Related: Having trouble going to Fort Canning? Check out this easy to follow guide.
Starbucks Cineleisure Orchard 08:00 AM to 10:00 PM
If you want a quick grab of the Seattle-based brew, the Starbucks branch in Cineleisure Orchard. It is one of the smallest branches in Singapore, yet its quaint and quiet atmosphere has made it a favorite among Starbucks enthusiast. 
More so, it is located right outside Scape, which is Singapore's best budget shopping place. Usually, people only come and go during the daytime in the Starbucks Cineleisure Orchard, but during night time, it can be a great place to meet up and chat with your friends. 
Starbucks Plaza Singapura (8am – 11pm)
If you are looking for that signature Starbucks café, the branch located at Plaza Singapura is the best place to stay. Located in Orchard Road, this branch provides both an outdoor and indoor setting area and has the rustic theme that most Starbucks branches have. 
The place is usually crowded, which is why it is a place more suitable for group gatherings or dates. However, if you can focus in busy areas, this can also be a perfect café to set in. 
On Fridays and Saturdays, the outlet closes at 12am.
Starbucks The Cathay (8am – 9pm)
For students who are looking for a place to study overnight, Starbucks's The Cathay branch is one of the few places were considering is conducive. It is a broad branch that has ample outdoor tables for big groups and small coffee tables inside for smaller groups. 
The branch also has several outlets were students and professionals can plug and play on their laptops. The branch is packed during the day, but at night, it can be solemn, which is excellent for learners who prefer studying in quiet areas.
On Fridays and Saturdays, the outlet closes at 10pm.
Starbucks Singapore General Hospital (7am – 9pm)
Of course, Starbucks also has branches near hospitals, one which is located in the southern area. Doctors and nurses in the Singapore General Hospital can get a burst of energy by grabbing a cup in Starbucks, which found conveniently near the hospital.
This branch has the typical four walls design with comfortable seating intended for visitors and hospital personnel who wants to catch a quick break.
On Saturdays and Sundays, the outlet closes at 8pm.
Starbucks Keat Hong Community Club (8am – 10pm)
For those living in the Western area, there is, unfortunately, only one Starbucks branch that offers its services 24/7 (per-covid). Located in the Keat Hong Community Club in Choa Chu Kang Loop, this Starbucks branch is known as a haven for young people during night times. 
The store also boasts a unique caramel see-through walls and dominantly long tables where you can use either cram for an exam, work through a deadline, or even laze and chill around. Either way, this Starbucks branch is a popular spot for those living in the West is the sole store that is open throughout the day.
On Fridays and Saturdays, the outlet closes at 12am.
Related: Do you love prawns? Here's a list of the best prawning places in Singapore!
Starbucks Jewel Changi Airport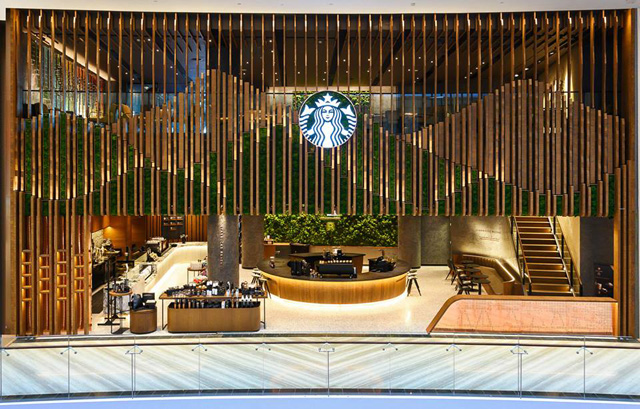 Pilots, stewardess, and tourists from all around the world can now enjoy a sip of the world-famous coffee with its 10th Singaporean branch located in the iconic Jewel Changi Airport Terminal 3. The branch is the largest in the country, being one of the eight Starbucks reserve branches. 
Most notably known as Starbucks Jewel, it truly shines among the other not only because of its massive size but also because it has exceptional amenities. The café includes an Art Room where you can find select collections of Starbucks artwork around the world that have been made throughout the years.
Starbucks Jewel also has a Reserve Experience Bar, where you get to see your coffee being made right in front of you, much like how Michelin starred chefs cook. You can choose between the four brewing methods that include Chemex, Pour Over, Siphon Brew, and Coffee Press. If you are new to this, the baristas can help you pick the perfect method that will suit your preferences. 
You can also find the second floor in this branch, which is a place celebrated for relaxing and chilling with your friends. The second floor consists of comfortable sofas and low coffee tables perfect for any group catch-ups. 
Starbucks City House
With the busy alley along the Starbucks City House, you would surely want to stop by and grab a cup of coffee to start your day. This store prides about its cozy yet modern look that would make you want to chill out and enjoy your cup of freshly brewed coffee. They also offer al fresco dining, if you want to enjoy the city view and the Singapore air while you take a quick coffee break.
Rochester Park Starbucks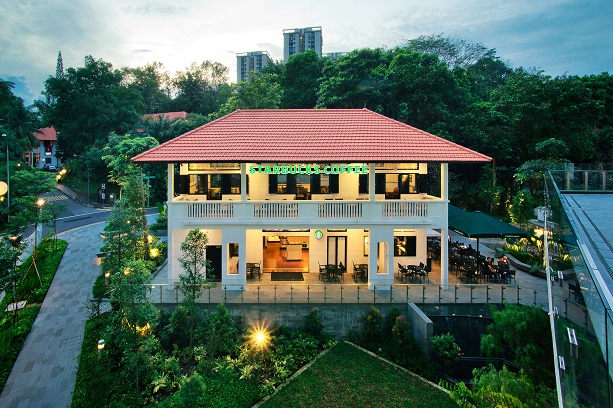 Tagged as one of the biggest Starbucks store in Singapore, it is no wonder that the Rochester Park Starbucks has gained its popularity. It quite looks like a house so it gives out a very homey vibe to its diners. It's a very conducive place for holding meetings, or studying for your upcoming examinations.
What country is Starbucks most popular?
Starbucks is arguably most popular in the US, where it was founded in 1971 and now has more than 15,000 stores nationwide.
The Seattle-based coffee giant has seen significant growth in the US over the years, with no signs of slowing down. Starbucks is also popular in China, where it now has nearly 4,000 stores. Starbucks is extremely popular in many other countries too, including Canada, Japan, the UK, Mexico, South Korea, and Taiwan.
India is catching up to be another big market for Starbucks, followed by China and Japan. Starbucks has also expanded into other parts of Asia, the Middle East, Europe, South and Central America, Australia, New Zealand, and Africa.
Which country has 0 Starbucks?
The small island nation of Niue located in the South Pacific Ocean is one of the few countries on earth that has no Starbucks at all. With a population of only 1,500, Niue is just too small and too isolated to justify a Starbucks opening up shop there.
This doesn't mean that they don't drink coffee — the locals enjoy their own unique blend of Kona coffee, referred to by some as the "Real Niuean Coffee".
With only two main roads in the entire country, there just isn't enough of a customer base to support a large international franchise like Starbucks.
How well does Starbucks fare in Singapore?
You may be wondering why there are a plethora of Starbucks branches in Singapore despite its small population. Well, considering that Singapore has been the world's most workaholic country, it is without a doubt that workers would generally look for something to help them get through a day, and inevitably coffee is a primary choice. 
According to research, although millennials are less likely to drink coffee than previous generations when they do so, they prefer drinking a Starbucks coffee. This goes to show how impactful the Seattle-based coffee shop is around the world. 
As mentioned, the Starbucks branch in Liat Towers was one of the catalysts in creating the millennial coffee culture. Today, there are over 124 Starbucks branches in Singapore alone and a whopping 23,000 branches worldwide.
The popularity of the coffee company in The Lion City can also be attributed to the fact that Singapore ranks in 13th place out of 40 countries whose average worker can afford a cup of Starbucks daily. This is despite the fact that Singapore is part of the ten countries where Starbucks costs the most. It means to show that Singaporeans are generally willing to shell out a portion of their fortune for caffeinated drinks, but such is without detriment to their financial lifestyle. 
Without a doubt, Starbucks has made an impact not only in Singapore but to the whole world. When someone mentions coffee, it is frequently the first shop that pops into the mind of anyone. From its humble beginnings at Seattle in 1971, it has expanded to over 70 countries in 2019 making it the largest coffee chain in the entire world.
Undoubtedly, the Singaporean work culture has benefitted from the presence of Starbucks at almost every corner in the country. Many employees rely on caffeine to help them function properly at work or keep focus during class. For this reason, it is exhilarating to see how many branches with unique designs would still emerge from the country. 
Read also:
Fun Things to Do at Night in Singapore
Transport Apps in Singapore you MUST know
Famous Things to Buy in Singapore