Don't know where to get Thai massages in Singapore? We have the perfect list for you! Check out our reviews of the best Thai massages.
If you are seeking a place for thorough relaxation, and mainly crave Thai signature massages, you need not book a flight straight to Thailand. With the continual advent of the pandemic, you can worry no more if you are looking for affordable Thai massages across Singapore this 2021.
Thai massages are known traditionally as an application to alleviate one's bodily stresses as well as mental discomfort. It typically lasts an hour to ensure an individual has obtained the benefits it renders. 
A variety of Thai massage parlors in Singapore offers therapeutic treatments you can opt for based on your needs and budget. Starting at $45 and as high as $318, there are a lot of services you can choose from, which will satisfactorily reduce your muscle and joint pains, plus relieve your stress. 
Here, we have enlisted the eight best Thai massage parlors and spas that will help loosen up your body's stiffness and ease away your mental tension from everyday tasks. Rest assured and enjoy! 
Related:
Where to get cheap massages in Singapore?
Best Massage Guns in Singapore
Top Thai Massages in Singapore
1. Sabaai Sabaai Thai Massage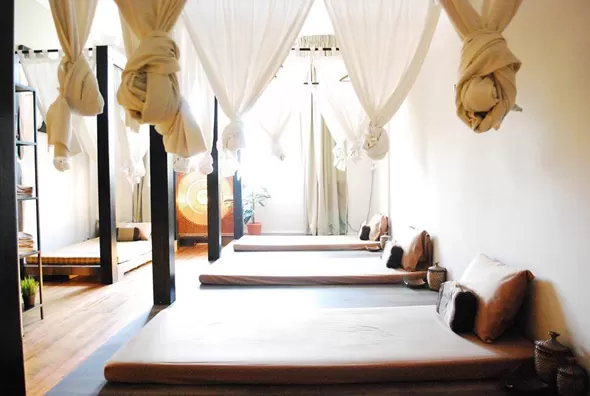 Just right along Boat Quay, Sabaai Sabaai Thai Massage is the right place to check out whether you are an office worker in the CBD, or just a tourist passing by, who wants to unwind after getting the job done or after trekking the city.
You will surely forget muscle aches incurred to you just by stopping by at their pleasant Thai-inspired environment and experiencing an utter comfort later. When suffering from severe muscle aches, Thai Herb Massage is a great choice. This treatment applies a heated herbal compress to the sore areas at $95 per hour. 
Price list:
Traditional Thai massage: 
$48 (30 mins)
$58 (45 mins)
$68 (60 mins)
$98 (90 mins)
$128 (120 mins)
Thai oil massage: 
$53 (30 mins)
$63 (45 mins)
$73 (60 mins)
$103 (90 mins)
$133 (120 mins)
Address:  49A Boat Quay, Singapore 049838
Website: sabaaisabaai.com
Contact: 6536 3306
Opening hours: Mon-Sat: 12PM – 10PM & Sun: 12PM – 6PM
2. Healing Touch Spa
Established in 2001, and by being an award-winning spa with 9 branches across Singapore, Healing Touch is an ideal zone you'd want to include in your bucket list. The classy environment and clean interiors are everything to be enjoyed, too.
Known for their Thai fusion massage, they are also serving traditional Chinese massage (Moxa Signature Massage, Chi Nei Tsang Anti-Ageing Massage), body scrub, and slimming wrap options. For easier transactions, try booking online via their website provided below. It can also get you updated with the spa's latest promotions. 
Price list:
Thai fusion massage
$58.85 (60 mins)
$88.28 (90 mins)
$117.70 (120 mins)
Website: healingtouchspa.com
Branches:  
Yishun Branch: 1 Orchid Club Road #01-33A (Beside Gym); Tel: 6759 0752
Alexandra Branch: 354 Alexandra Road, Alexis Condo #01-18; Tel: 6734 2863
Upper Thomson Branch: 199 Upper Thomson Rd; Tel: 6352 4657
Novena Branch: 70 Thomson Rd; Tel: 6255 3320
River Valley Branch: 5 Tank Rd, Nagarathar Bldg #01-01/02; Tel: 6715 1515
Opening hours: Daily 10:30AM – 11:30PM
3. Healing Thai Massage
Healing Thai Massage is located in Jalan Besar, thus this may be the best option for people around Little India and Bugis areas. Their main specialties include the oil-free Thai Traditional Massage and the Thai Oil Massage.
Unlike other massage parlors, this one can stay open up until 3 AM, which makes it favorable for those who need late-night winding down sessions. Not to mention, they also offer shiatsu massage, Javanese massage, and foot massage at the parlor. Other types of massage therapies like Aroma Hot Oil Massage and Ear Candling with Head Massage are among their range of services. 
Price list:
Thai Oil Massage and Thai Traditional Massage
•11AM – 10PM:
$45 (45 mins)
$55 (60 mins)
$75 (90 mins)
$100 (120 mins)
•10PM – 3AM:
$60 (45 mins)
$65 (60 mins)
$95 (90 mins)
$120 (120 mins)
Website: healingthaimassage.com.sg
Address: 39 Jalan Besar Singapore 208802
Contact: 6294 0139
Opening hours: Daily 11AM – 3AM
4. Balinese Thai Traditional Massage
At this parlor, you can choose different massage styles that suit your taste. The Balinese technique concerns tired muscles while the Javanese remedies muscle knots. Since you might be looking for overall body relaxation, their Thai full-body massage is perfect for you.
For improving blood circulation and alertness, they can offer Ginger Treatment, which involves spreading grated raw ginger all over your back. Prenatal massage and Cupping Therapy are also available. By signing their membership, you can enjoy discounts. 
Price list:
•Thai Body Massage:
$60 (60 mins) 
$80 (90 mins) 
$100 (120 mins) 
Website: balinesethai.com.sg
Opening hours: 
Thomson: Daily 10:30AM – 10:30PM
Bedok: Daily 10AM – 10PM
Outlets:
•Address: 235 Upper Thomson Road, Singapore 574366 
Tel. 6451 2212
• Address: 311 New Upper Changi Road, #B1-05, Bedok Mall, Singapore 467360
Tel. 6584 2124
5. Healthland Traditional Thai Massage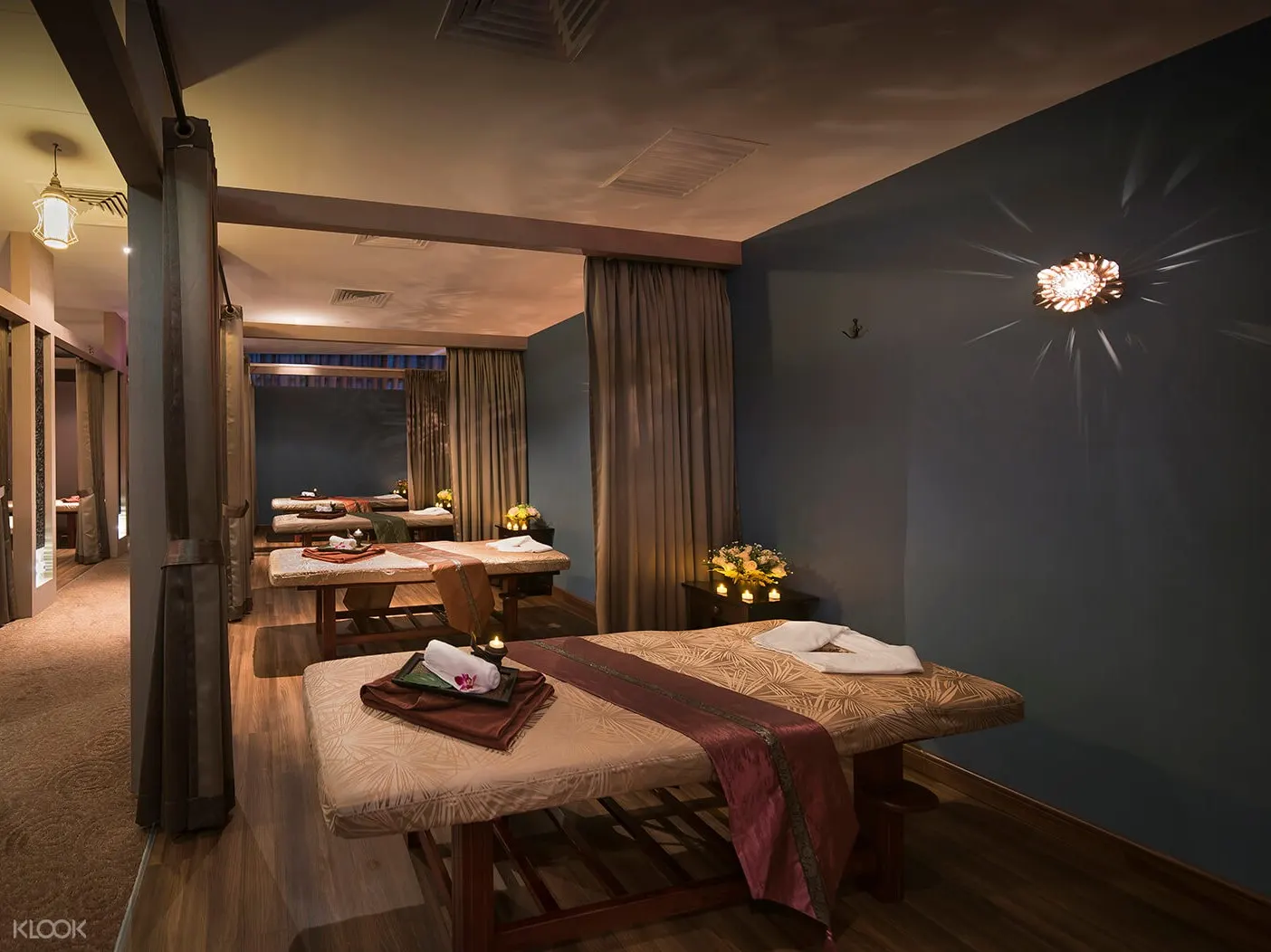 This parlor started operations in 2001. Besides having a head-to-toe therapy for people drained by busy hours, Healthland Traditional Thai Massage also offers massages on specific areas susceptible to muscle aches.
Aroma oil therapy is another thing to consider here, as it helps improve your blood pressure and memory while relieving stress. Using the combination of pressure-point and stretching methods, its highly professional therapists got their strategy to effectively soothe tensed muscles. 
Price list:
Traditional Thai Massage ($60/hr) 
Aroma Oil Therapy ($70/hr) 
Foot Reflexology ($56/hr) 
Longer duration treatments are available 
Website: healthlandspa.com.sg
Address: 252A South Bridge Rd, Singapore 058801
Contact: 6221 3376
Opening hours: Daily 11AM – 12AM
6. Hatyai Thai Massage
Operating for over 22 years, Hatyai Thai Massage is still among the most recognized Thai massage parlors in Singapore. Located at Temple Street in Chinatown, it is only blocks away from Central Business District which would make it accessible for tourists and weary white-collar workers. Other services enable you to book an appointment to enjoy Hatyai Thai Massage at the comfort of your own home or hotel. 
Price list:
•Traditional Thai Massage: 
$60 (60 mins)
$78 (90 mins)
$108 (120 mins)
•Oil Massage: 
$65 (90 mins)
$83 (90 mins)
$113 (120 mins)
•Outcall Massage: 
$150 (60 mins)
$180 (90 mins)
$200 (120 mins)
Website: hatyaithaimassage.com
Address: 58A Temple St, Singapore 058603
Contact: +65 9023 3129
Opening hours: Daily 11:00AM – 11:30PM
7. Ayuthaya The Royal Thai Spa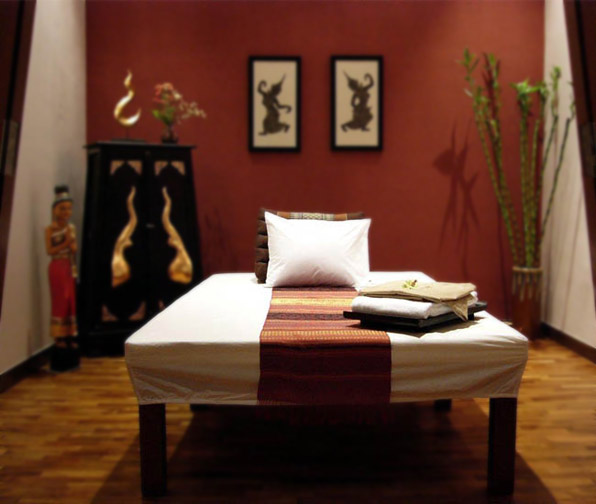 Ayuthaya The Royal Thai Spa is accredited to Case Trust as an award-winning spa. The Thai-style decorations made the environment look regal, demonstrating the name of the parlor itself. This spa is ideal for someone wanting premium and superior Thai massage performed by highly skilled masseurs. In addition to that, you can purchase "royal" quality products here. Based on the spa's concept, if you are disregarding budget as a matter, be free to indulge yourself to sometimes to feel like a king or queen in Ayuthaya The Royal Thai Spa. Their offers can be worth the pay. 
Price list:
Royal Thai Massage: 
$168 (60 mins)
$248 (90 mins)
$318 (120 mins)
Thai Aroma Oil Body Massage: 
$168 (60 mins)
$248 (90 mins)
$318 (120 mins)
Thai Foot Massage: 
$78 (30 mins)
$98 (45 mins)
Website: ayuthayaspa.com
Branches:
•Treetops
Address: 7 Orange Grove Road, Treetops Executive Residences, S258355
Tel: (65) 6233 7366
•Rendezvous Hotel 
Address: 9 Bras Basah Road, #03-03 Rendezvous Hotel, S189559
Tel: (65) 6223 9180
Opening hours: Daily 11AM – 11PM
8. Golden Mile @AMK
From reading the name itself, it serves primarily Thai massage. That being said, however, they are otherwise able to extend their range of services to make you feel 10 years younger. Situated in Ang Mo Kio, you would be glad to know you won't have to travel far for a Thai massage if you live near the Northeast central areas of Singapore.
If you are not that type to undergo physical massaging, they also offer aromatherapy massages which use the benefits of essential oils to help you alleviate pressure on the muscles. 
Price:
Thai Massage and Aromatherapy start from $45 per hour. 
Website: thaimassagesg.com
Address: #01-1671, Ang Mo Kio Avenue 10, Block 446, Singapore 560446
Contact: 9002 9291/9336 1306
Opening hours: Daily 11AM – 10PM
What are the benefits of Thai Massage?
A Thai massage not only helps you relax and enjoy a break from your daily grind, but it also has some excellent benefits for your health in a number of ways. 
Relieves headaches
Are you constantly dealing with headache pain? Migraines and tension headaches are common, pain-inducing conditions. Traditional Thai massage may be the answer. In fact, one study showed that migraines could be reduced by nine sessions of this type of massage in a span of three weeks.
Reduces stress
There are many advantages to massage therapy, including stress relief. Thai massage, for instance, is an energetic form of massage that has been shown to lower anxiety and increase relaxation and a feeling of calm.
Boost energy
Thai massage might just be the perfect remedy for someone who is stressed. With rejuvenating movements that feel similar to yoga, Thai massage can have a lasting effect on mood and mental well-being. It's no wonder many people report feeling more relaxed and rejuvenated, as well as relieved of some pain after a session.
Improves range of motion
If your mobility is being hindered by a limited range of motion or tight muscles, Thai massage may help. Thai massage utilizes compression, acupressure, and passive stretching to increase the range of motion in joints and muscles. This can improve your posture as well.
Helps with back pain
Thai massage is usually gentle and focuses on back pain hot spots like the abdomen and inner thigh. However, if you've had constant back pain for a while and want to try a massage, we recommend talking to a doctor first.
Getting the Best Thai Massage in Singapore
Thai Massage has been observed for many years to promote better blood circulation, physical health, and wellbeing. It focuses on muscles and joints, and it can build up muscle flexibility, vitalize the body and relax the mind. 
After a long, long day of work and physical activities you endure here in Singapore, you can treat yourself with a Thai massage session, as it helps to becalm the body from stress and tension without the need of booking a ticket for a flight directly to Thailand. These eight parlors and spas are so far the most prominent and frequented ones. 
Where to get Thai Massages in Singapore: FAQs
What to expect at a Thai massage parlor?
Thai massage is a traditional treatment that involves stretching and rocking at the therapist's hands. The Thai masseuse will use their hands, elbows, knees, feet, and even their entire body to do this. They may even walk on you during the massage
Is it safe to have a Thai massage?
While Thai massage is a no-brainer for many people, there are a few potential risks. For example, it can increase your heart rate. This might be harmful if you have a heart condition. The risk of injury in sore muscles or bones caused by a rough massage is also rather small.
How often should you get a Thai massage?
We suggest getting a Thai Massage two or three times a month to give your body the maximum benefits.
Also Read:
Where to Buy Back Support for Office Chair in Singapore