Sometimes, it happens. Boredom strikes at the most unlikely hour. And just when you think it couldn't get any boring-er. Is there even such a word?
You could be living in the most vibrant city and still bet at home twiddling your thumb with no idea what to do next. It happens to the best of us, even here in Singapore.
But it's not that bad. Singapore is diverse, rich in culture, and beautiful. It's not called the Garden City for nothing and boredom should be the last thing to think about here. You're in for a surprise when you find out that there are still a lot of things to do and places to go to in this city.
If you're up for an adventure or some plain old good time, here are some things to do and places to go to in Singapore.
Read on our picks on Staycations in Singapore
Top Things to Do in Singapore this 2021
Be One with Nature
Singapore is a fantastic urban country and city but it's also a wonderful nature reserve in its own right. The place never runs out of parks, and gardens for you to visit when you need a getaway.
Here are some of the places you can visit with friends and family:
Picnics at the Botanic Gardens

How can you not want to go on a picnic with friends and loved ones? When it comes to picnics, the Singapore Botanic Gardens is the first thing to come to mind, and we can't argue with that.
Rolling meadows and beautiful foliage will complete that afternoon picnic plan you have. If you want a bit of classical music to serenade you while on your picnic, walk over to Symphony Lake, where classical music concerts are regularly staged. Whether you're here to picnic or not, there's still a lot to see and do at the Singapore Botanic Gardens.
This garden has been founded since 1859 and it will showcase you a 74-hectare area full of spectacular flora! With more than 10,000 types of plants and trees around you, you would surely have a great dose of fresh air and take your stress away.
Address: 1 Cluny Rd, Singapore 259569
Opening Hours: 5am to 12am
Visit Pulau Ubin
It's back to the past with a visit to Singapore's Pulau Ubin. It's a short 10-minute boat ride that takes you to a lifestyle before the city life took over. Mingle and talk to the local villagers that still live there or rent a bike and try some of the mountain bike trails there. Make sure you also check out the Chek Jawa wetlands trail while you're there.
Once your plane lands in Singapore, you can make Pulau Ubin as your first destination because it only takes 15 minutes from Changi Airport for you to get there. The granite quarries are stunning and there are other things to do like checking out historical sites, visit the coconut rubber plantations, and check out the last remaining Kampong (traditional village) in Singapore!
Address: Pulau Ubin, Singapore 508329
Opening Hours: None
Gardens By the Bay
Amid the modernized city lies the Garden By the Bay when you can become one with nature with the "Super Trees!" You can enjoy the lush green grass and fresh air as you hang out with your friends on top of this amazing garden. Plus, you get to experience being a "Crazy Rich Asian" since this is one of the featured spots in the movie.
You will always have a reason to revisit the flower dome, because it changes its theme every season! You get to have a great Instagram photo every season so what's not to love?
Don't worry! The admission for seeing the Super Trees are free, but make sure you bring extra pocket money if you want to see the conservatories.
Address: 18 Marina Gardens Drive, Singapore 018953
Opening Hours: If you want to see the schedule for every attraction, click here.
Head to MacRitchie Reservoir and hike the Treetop Walk
If you want to escape the city and fully immerse yourself in nature, then heading over to the MacRitchie Reservoir is the perfect thing for you. Considered the largest reservoir in the country, the MacRicthie Treetop Walk is a trail that has a 250-meter suspension bridge.
Here, you can get a beautiful view of your surroundings and what the whole reservoir has to offer. It's a sight to behold, and you might just be lucky enough to spot the rare flying lemurs that live there.
The trail covers an 11-km pathway, so your legs would surely be stretched out! If you're up for a challenge, this 3 to 5 hours of trekking would be worth your stay in Singapore.
Address: MacRitchie Reservoir Park, Singapore 298717
Opening Hours: Tue-Fri: 9AM-5PM | Sat-Sun: 8.30AM-5PM (Closed on Mondays, except PHs)
Cruise through Punggol Waterway Park
If you're feeling bored on the weekend, both Punggol and Punggol Waterway Park offer a leisurely activity where you can cruise on your skates and bikes on jogging paths. While there, you can also do a spot of bird-watching. It's also a very popular place to take kids to.
With four major themes, you and your family would never run out of things to do and see. You can enjoy the Green Gallery for the exquisite flora and fauna. The Recreation Zone allows you to spend time playing with your kids with sand and water, or if you want a nature-rich workout, you can also do it here! For the third theme, we have the Heritage Zone to bring you back to the past. Lastly, Nature Cove gives you a refreshing sight full of trees and plants as you sit and relax.
Address: Sentul Cres, Singapore 821313
Opening Hours: Open 24 hours
Discover History and Culture
Singapore has never lost sight of its history and rich culture — that's something you can see even when out on the street. In fact, Singapore harps on it and makes sure that both history and culture are a big thing in the city.
In turn, that's a good thing for us. Museum hopping is a must. Here are some museums you can start off with:
Visit the National Museum of Singapore
Singapore's biggest museum, the National Museum of Singapore lets you look at the full history of the island. They're also known to have plenty of interactive workshops, features, even outdoor movie screenings.
Being the oldest museum in the country, you will have a blast of the past by just walking through the halls of this museum. The admission rate is S$15 for adults and S$10 for students and seniors, and they also offer daily free tours to give you more insights into your museum tour.
Free tours are available at 11am and 2pm on weekdays and 11am, 1pm, 2pm, and 4pm on weekends.
Address: 93 Stamford Rd, Singapore 178897
Opening Hours: Mon to Sun, 10am to 7pm
Tour the National Gallery Singapore
An impressive building in itself, the National Gallery Singapore has the biggest collection of local and Southeast Asian art pieces. It's a treat for anyone who loves both art and history and wants to get a better understanding of it up close and personal.
If you want to spend a serene time browsing through an endless selection of books, you should never miss out on the grand National Gallery's Rotunda Library & Archive. The dome ceiling and rustic furniture would make you want to know the entire history of Singapore through books!
Address: 1 St Andrew's Rd, Singapore 178957
Opening Hours: Monday to Sunday, 10 am to 7 pm
Go Back to Being a Child at the MINT Museum of Toys
Bet you've never been to one but here's your chance! The MINT (Moment of Imagination and Nostalgia with Toys) Museum of Toys is for everyone and anyone. They've got all sort of toys there, rare and memorable, all in great condition. Only drawback is you can't exactly play with the toys but you can definitely fawn over them for hours!
World class vintage toys are right in front of you and toy lovers would definitely want to live inside this museum! You can find over 50,000 toys from all around the world and some are even over a hundred years old.
This museum is believed to have the largest toy collection in Southeast Asia, so missing out on this destination is not an option.
Address: 26 Seah St, Singapore 188382
Opening Hours: Monday to Sunday, 9:30 am to 6:30 pm
Have Fun and Enjoy
Then there are the places that pique your interest and your hobbies. These are places where you can have fun and not worry. It's all about enjoying the moment. Our top picks for what to do to have are:
Experience VR
Two words: virtual reality. It's everyone's dream to enjoy an immersive VR game with friends and family, and if you're anywhere near Orchard Road, Sandbox VR is where you want to be. It has all the latest VR tech and offers you games that last an hour.
Think of missions to a haunted house with your friends! Fair warning, it can be addicting and might have you wanting to come back for more.
Address: 181 Orchard Road, #05-31 Orchard Central, Singapore 238896
Opening Hours: Monday to Friday, 12:30 to 9:45 pm | Saturday and Sunday, 10 am to 9:45 pm
Get lost in Chinatown
Chinatown offers a lot for the bored individual. From exploring the different shophouses for antiques. Great finds, souvenirs, and clothing to eating at several good hawker stalls for some local food fare, boredom is the last thing you'll feel in this colorful and awe-inspiring part of Singapore.
After you've had your fill with shopping and eating, check out the historical sights you can find there. Some fave spots for both locals and tourists alike are the Buddha Tooth Relic Temple and the Sri Mariamman Hindu Temple. 
Address: Chinatown, Singapore 050005

Have a Blast at Universal Studios Singapore
Old, young, young at heart — there's no denying it. Universal Studios Singapore is all about pure fun. There are rollercoasters you can ride as well as simulation rides, shows for the kids, and more. Getting lost is easy to at Universal Studios Singapore but one that you'd be more than happy about.
While you're there, why not explore Sentosa Island, too? The island itself has so much to offer aside from Universal Studios! You would never run out of fun things to do with 28 rides, attraction and 7 themed-zones around. Have a fun-filled adventure and spend an entire day at the Universal Studios!
Address: 8 Sentosa Gateway, Singapore 098269
Opening Hours: Daily, 10 am to 7pm
Experience Snow in a Tropical Country
Yes, the weather in Singapore is hot and humid, but that doesn't mean you cannot enjoy snow! Visit the Snow City and take a great escape from the scorching heat. This is the first permanent indoor snow center in Singapore which is perfect for the whole family.
If you want to check out the rates before visiting Snow City, just click here for the details. You can enjoy snow all-year round, and you don't need to ride a plane to another country just to get that winter breeze!
Address: 21 Jurong Town Hall Rd, Singapore 609433
Opening Hours: Daily, 10 am to 6 pm
Support the Local Music Scene
Singapore is known to hold concerts by international artists, but its local music scene is pretty vibrant too. Head on over to bars, cafes, and other music scenes to catch homegrown talents perform.
Indulge on Good Food
Singapore is diverse in all aspects and food is no stranger to that here. It's a mix and a mash of this and that, but it's still truly Singaporean. Even tourists know that when in Singapore, indulging on food is a must. Here are a few foodie things you can do:
Café Hop Your Way Around
Whether it be run by the old man or a millennial, every corner you stop at within Singapore, you're bound to find a café or coffee shop open. That's because Singaporeans have a strong cafe culture. It's where people meet, mingle, catch up. It's the atmosphere and ambience. And of course, it's about that excellent cup of coffee, too.
If you're bored, why not café hop around town? It's time to explore. Forget that café you always frequent! Try something new. You might become the coffee shop expert while you're at it, too.
Feast on Hawker Food
Singapore is known for food, and everyone knows about the different hawker food being served here. Going on a food trip, a hawker food trip specifically, is something any resident or tourist should do. Brst thing about it? You'll never run out of hawker stalls and hawker centres to go to!
We recommend that you make this a lifelong mission, actually. Eat your way through Singapore and just think of all the delicious laksas, Hainanese chicken, and char kway teows that have yet to be discovered and tasted!
Catch Your Own Seafood at Smith Marine Floating Restaurant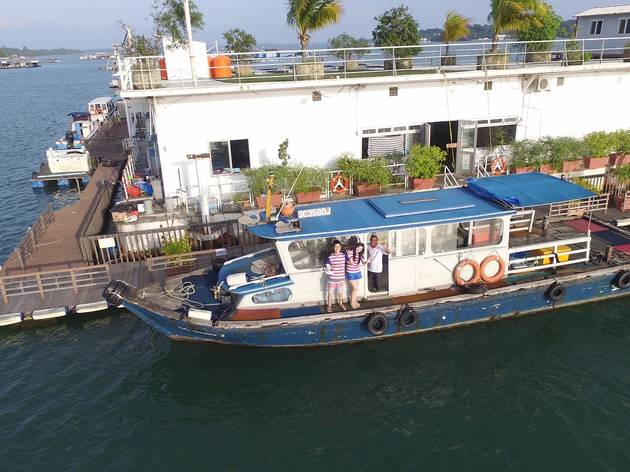 What's more fresh than catching your own food, right? At Smith Marine Floating Restaurant, you get to have fun in catching your own fish before sending them off to the kitchen! You can also ask the chef to cook your catch just the way you want it.
Enjoy the view and enjoy your food at the same time! You can have a delectable selection of mussels, crabs, prawns, lobsters and many more!
Address: Johor Strait, Singapore
Opening Hours: Daily, 8 am to 8 pm
Where to Go to Singapore this 2021
Now you don't have to follow our guide down to a tee. You're more than welcome to craft it to your liking or mix it up. You can even add in some of the things you like to do when you get bored with the existing ones here. Whatever floats your boat!
There are many other things to do that some locals who have lived their whole lives here haven't done. It's time you took on the challenge to explore all that. Beat boredom while you're at it, too.
You'll be hitting two birds with one stone because here in Singapore, you'll never run out of things to do.
READ ALSO:
Fun things to do in Singapore at night
Thrift stores in Singapore to visit
Prawning places to visit in Singapore